About petelyons.com
A little about myself, my late father Ozzie, and my wonderful wife of 31 years, Lorna.
Click to jump to OZZIE | LORNA
PETE LYONS

RESUME / CV:
IN MY DECADES-LONG CAREER as a motorsports journalist and photographer, I've been a Staff and/or Freelance Contributor of stories and/or pictures to Autosport (UK), AutoWeek, Car and Driver, Car Graphic (J), Classic Motorsports, Corvette Quarterly, Cycle, Cycle World, EAA Sport Aviation, Motorsport (UK), On Track, Private Pilot, Road & Track, Racer, Racecar* (nee Formula), Sports Car, Vintage Motorsport, Vintage Racecar and many others in many countries, plus book publishers David Bull, Motorbooks, Robert Bentley, Consumer Guide, Haynes, Octane Press, etc.

(*Racecar; I was editor of that US monthly for 3 1/2 years, until it folded. Then I served 2 1/2 years in the same capacity for the trade magazine Import Automotive Parts and Accessories (aka IAPA) before moving to an advertising agency for the money. But wearing a necktie everyday was irksome, nor was the job satisfying, so I voluntarily resumed my freelance career and have been happy ever after.)

I am the author of 12 published books to date: the BRAND NEW "I'm Rod" ghosted autobio of racing PR pioneer Rod Campbell (CONTACT me and I'll connect you with the man himself, who is handling sales of a downloadable PDF version); FAST LINES, an anthology of my Vintage Racecar columns with Octane Press (this and some of the following titles are available for sale via my "PRODUCTS" page, see the Header bar); CAN-AM CARS IN DETAIL for Bull Publishing (Winner 2010 Dean Batchelor Award, details at motorpressguild.org), CAN-AM (Winner 1996 Dean Batchelor Award), CAN-AM PHOTO HISTORY, marque histories of FERRARI, LAMBORGHINI and JAGUAR, "Formula 1" reviews for 1974 and 1976, JAMES HUNT Profile, CHAPARRAL Profile.

I have 2 more books in process; details to come.

As well as the 2 Dean Batchelor Awards noted above, plus 2 more "Best of the Year" MPG awards, I have been honored to receive the Ken Purdy Award of the International Motor Press Assoc., a Best Feature Article Award of the Sports Car Club of America, and an Award of Appreciation from the Road Racing Drivers Club. Also, I am grateful to be 2011 recipient of the International Automotive Media Award for Lifetime Achievement.

I am a co-founder and Past President of the American Racing Press Assoc. (ARPA)

NEW: see "Reviews of my Books" and "My Work on the Web," both in the Blog


THE BACKSTORY: ONE SUNNY DAY at a sports car race on the old public road course at Bridgehampton, NY, a very young boy who at that time had no interest in automobiles was invited to step into the cockpit of a tiny, motorcycle-engined Cooper-Norton F3 race car. "This one fits me!" he exclaimed in his mind.
Today, I remember that as a life-changing moment.
Cars that seem to fit are larger now, but the excitement that springs from them is just as fresh. And to my delight, I've been able to devote the intervening decades to happily wandering the raceways of the world, writing about, photographing, and very occasionally being allowed to drive some of the most beautiful and thrilling machines ever created by human genius. Even better, I've been privileged to know some of the geniuses.
It's all thanks to my father, Ozzie Lyons, an engineer, photographer and lifelong automobile enthusiast who put my feet on this road. Ozzie was long the USA correspondent for Autosport magazine, and helped his youngster begin shooting and writing for that British bible too. Gradually, but inevitably, covering motorsports became a career.
THE PIX BELOW are from the 1965 Gran Premio de Mexico, where father and son found a Bentley to pretend they owned; at left, Ozzie shot Pete shooting one of their heros, Jimmy Clark; below this pair is Pete's view of the world champion taken at the same instant.

For six seasons I reported on the North American scene for Autosport, regularly attending great events like the Daytona 24-hour and 500-mile races, the Sebring 12-hour, the Indy 500, and the annual Formula One Grands Prix in Canada, the U.S. and Mexico. A special favorite was the Can-Am, the Canadian-American Challenge Cup series for essentially unlimited big sports racing cars. Those glorious years from 1966 to 1974 are the basis for three of my books, CAN-AM and CAN-AM PHOTO HISTORY, both from MBI Publishing, and CAN-AM CARS IN DETAIL, from Bull Publishing (see BOOKS page).
AT RIGHT, incredibly generous owner Fred Cziska supervises the scribe's attempt to drive a Monster-Motor Can-Am Shadow Mk III originally raced by Jackie Oliver in 1972. See our GALLERIES for shots of the same car in-the-day. (This photo by Lorna Lyons)

Then I went international, spending four fun, fascinating years as the F1 correspondent for both Autosport and and the American publication AutoWeek. From 1973 through 1976, at a time before live television or the internet, when fans had to wait for their magazine to arrive to learn the results of a race weekend, my goal was to put the reader into my boots at such exotic locales as Argentina, Brazil, South Africa, Japan and all the great circuits of Europe — Nurburgring, Spa, Silverstone, Monza and so many more.
After three and a half years on-staff as Editor of a US racing monthly, which at first was called Formula and later renamed Racecar, I chose to become a freelancer once again. I have contributed to a wide variety of automotive publications including Vintage Motorsport, which now carries my regular column, "Fast Lines." Other prestigeous publications in which my byline has appeared include AutoWeek (for whom I was for many years a Senior Contributing Editor), Racer, Road & Track, Car and Driver, Corvette Quarterly, Cycle, Cycle World, On Track, Private Pilot, Vintage Racecar and many others. For 12 years I was editor and principle photographer of MilePost, the monthly organ of the Motor Press Guild (MPG), America's largest organization of automotive journalists, public relations and industry analyst professionals.
To date I am the author of 12 published books, with two more currently underway.

As mentioned above — OK, so I'm proud of it! — my work has twice been honored with the Dean Batchelor Award from the Motor Press Guild for Excellence in Journalism, plus an Award for Journalism given by the Road Racing Driver's Club and the International Motor Press Association's Ken Purdy Award. (Many years earlier, Mr. Purdy had given my young self a ride aboard his splendid old Mercer Raceabout.)

Also, I am grateful to be 2011 recipient of the International Automotive Media Award for Lifetime Achievement. (I promise that doesn't mean I've stopped trying to achieve!)
The Historic Grand Prix Association has twice awarded its Pete Lyons Cup to owners of vintage F1 cars whom I felt best recreated the spirit of the historic times I remember so vividly.
I am a co-founder and Past President of the American Racing Press Assoc. (ARPA), which established and enforced professional standing and standards for our particularly specialized (and, let's face it, risky) craft.

To scratch that old F3 itch, I have attended several competition driving schools, including the Bob Bondurant School, Skip Barber School, British School of Motor Racing, Jim Russell School and Jim Hall II Kart Racing School. I have test-driven many high performance cars, including several Ford GT40s, Lola and Shadow Can-Am machines, a Porsche 935 Turbo, a March-BMW GTP, and a Ferrari 250 Testa Rossa. In a very modest way I have competed in Formula Ford open-wheel racing, on go karts, and as a navigator in rallies (class winner with World Champion driver Denny Hulme in the Tour of Britain, 1976).
No Cooper-Norton has come my way, but I have owned a Norton motorcycle and several others, including a Triumph-Norton special called a Triton, plus factory bikes from Honda, Suzuki and Triumph, and have ridden some of these — plus Ozzie's classic Vincent — all across the United States, deep into Mexico, and throughout much of Europe.
PIX BELOW: Pete photographed Dick Mann win the 1970 Daytona 200 on the most luscious 4-cylinder Honda CBR racer. That magnificent quartet of exhaust megaphones worked and worked on an unrepentant Romantic, he couldn't get their exotic beauty out of his mind until finally, one day in L.A., he succumbed. Here we see him aboard his red-and-gold CB750 later that year, all packed up for the loooong ride from Mom and Dad's place in Pennsylvania to the Can-Am at Road Atlanta. (Latter pic by Ozzie.)


My only interesting personal car so far has been a 1973 Corvette, a bright red coupe which I took to Europe and drove from race to race during my F1 years. This early "selfie" — I balanced a Nikon atop an overturned boat across the jetty, set the self-timer and ran back to assume-the-position — was taken in the ancient Sicilian port of Cefalu, on the north coast along from Palermo, on the last of my three jaunts to the Targa Florio, '73's grand finale of the open-road races in the hallowed European style I remember calling "eldrich." I HAD to go again this one last time: the factory name for the Corvette's color was Targa Red!
The flying bug bit, too: I earned my private pilot's license in 1976, added an Instrument Rating a couple of years later, and have owned Cessna, Mooney and Piper aircraft. At the extremes of the flight envelope, I have proudly logged pilot time in the Goodyear Blimp and at the (back seat) stick of a Navy Blue Angels jet. Below is our last airplane, "Juliet," a 1968 Piper PA28-180D which we had for 12 magical years. She took us on many wonderfully satisfying cross-country expeditions, including to and from the Oskosh fly-in. Another time, we circumnavigated almost the whole of the US, coast to coast.

PIX ABOVE: The inflight image of 6367Juliet was made by friends in their Bellanca above our home field of Big Bear City, CA, or L35 in av-speak. The middle one is Lorna's view of a soggy morning at Stevens Point, WI, on our way home from Oshkosh, when Pilot Pete had to wade out in his socks to untie poor Juliet and haul her to dry ground. The third is only a gag shot; the co-pilot and navigator really knew exactly where we were ... didn't she?
Today the very lucky me, my marvelous wife Lorna Fitts Lyons (former editor of SCCA's Sports Car magazine) and our new kitty Mira are at home in the beautiful mountain community of Big Bear in Southern California.
---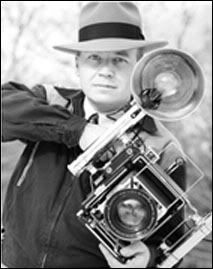 OZZIE LYONS
Photographer, engineer, writer, editor, movie director, travel enthusiast, mechanic, car restorer and racing fan, Ozzie Lyons was also a great dad. With Geraldine, his wife of over 50 years, he gave their four children the widest possible exposure to the world and its myriad opportunities.
Ozzie's fascination with cars began in childhood, and never ebbed. His first racing photos date from 1938, when he shot dirt trackers in lurid action at the Altamont county fairground in New York state. He was at some of the earliest Watkins Glen sports car races, and began going to Bridgehampton almost as soon as racing started there. He traveled to far-off Florida for the second-ever Sebring 12-hour race in 1953, and liked it so much that the Lyons family made that growing classic event the core of its annual vacation.
It was there at Sebring that he became friends with Gregor Grant, the founder of England's Autosport magazine, who soon appointed Ozzie his American correspondent.
ABOVE, mom Gerry shot "Pop" with one of the behemoth Speed Graphics he used in the early Fifties. BELOW: Pete's snapshot taken just after riding the Blimp at Sebring, 1960. Note Engineer Ozzie's home-made rig to hold two (MUCH SMALLER!) cameras at the ready, one loaded with color film, the other B&W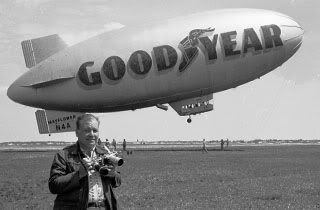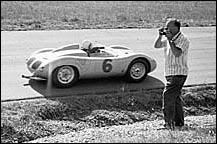 Ozzie shoots Roger Penske and his Porsche at Virginia International Raceway in 1960 (to see what we think must be Dad's actual shot visit our Gallery page for "SCCA Sports Car Racing > Virginia International Raceway (VIR) 1960," image VIR60-Porsche6B)

Though his weekday employment was in engineering and film making with the General Electric company, Ozzie energetically pursued his journalistic career on weekends, reporting on races and rallies, covering car shows, and photographing custom and classic vehicles both for magazines and the car's owners. When he could, he'd take his son and often the whole family along on adventures to every corner of North America. It was on these expeditions that he patiently taught Pete how to use a camera, and on returning home, how to process the film and print the photos.


In 1957, intrigued by its superb engineering, he bought a Rolls Royce Phantom II built in 1934. That summer the Lyons clan set off in this magnificent, wire-wheeled monster for a coast-to-coast tour. By the end of the month young Pete, who'd only just received his driver's license, had almost gotten the knack of the non-synchronized ("crash-box") transmission.
Ozzie loved that car; he drove it to work, he stripped it down to the frame, he rebuilt its engine, gearbox and axles, he and Gerry drove it cross-country again; he kept his PII for 25 years.
Even after finally parting with the car itself, he remained active in the Rolls Royce Owners Club, for many years serving as editor of the national organization's magazine, The Flying Lady.

PHOTO RIGHT: (Can you make out "the Lady" atop the radiator in the photo at right, taken of course below Half Dome in Yosemite.)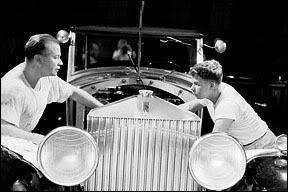 Ozzie and Pete work on the Rolls together circa 1957. The windshield reflection shows Gerry (Pete's mom) taking the picture.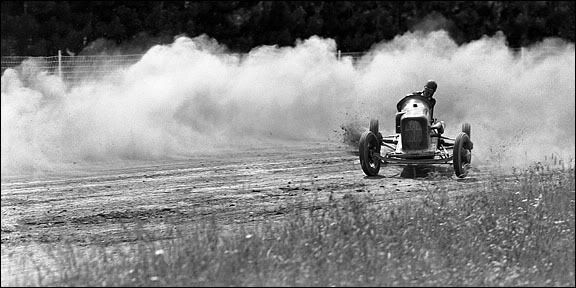 We call this delightful photo "Loose." Ozzie made the exposure at Altamont Fairgrounds
near Albany, NY, in 1938 — wielding an ungainly Speed Graphic press camera.
---
LORNA LYONS
Lorna Fitts Lyons began life thinking she wanted to be a teacher, and teach she did. After graduating from SUNY Cortland with a BA in Secondary English, she taught for two years in the upstate NY town of Auburn.
But the racing bug bit and off she went in 1974 to work for IMSA in Fairfield, Connecticut. Those were the days when IMSA was laid back and fun. The early days.
In 1976 she moved to California to work for Executive Motorhomes running their Executive Motorhome Challenge, a racing stock warm-up to IMSA's Camel GT Challenge.
THIS PHOTO (RIGHT) captures Lorna congratulating Scott Hoerr for a victory at Laguna Seca.
In 1978 she moved to the editor's job at Sports Car magazine in Santa Ana, CA, where Paul Oxman served as the magazine's publisher and ran his famous poster and calendar business. As an off-shoot of that business, a new magazine was born, Import Automotive Parts and Accessories. Lorna became the managing editor and hired an editor for the new publication, Pete Lyons. Later, they would marry, and to this day Pete says Lorna is still his boss.
In their thirty-plus years of married life, Lorna has owned a typesetting business and has taught Desktop Publishing at the local high school. Today her nearly full-time job is support for Pete's motorsports journalism, including being designer and webmaster for this site.

UPDATE: Lorna is also designer of one of Pete's latest books —"I'm Rod, an Incorrigible Optimist."
This ghosted autobio of racing PR pioneer Rod Campbell has been printed privately in

a

very small quantity as gifts to family and friends ... but there is a PDF edition offered for download at reasonable cost by the subject himself. It truly is a fascinating "poverty to prosperity" story! See "Contact" link below or in header bar above to express your interest and we'll put you in direct touch with Rod.